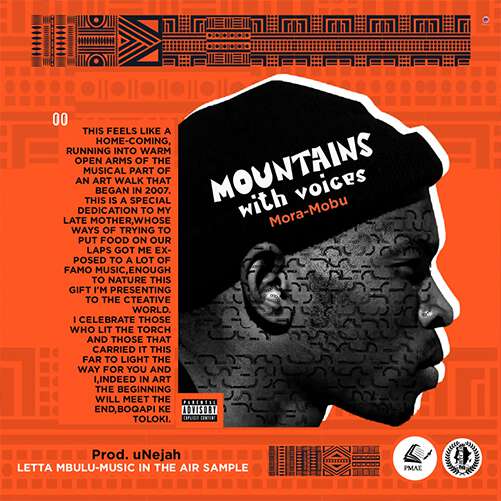 One of the venerated poets, Thabo Marebole, known as Mora-Mobu, has been doing poetry independently since the year 2008, having written his first poem "The Time". Mora-Mobu's booming voice helped him to find himself as a poet, whereby years down the line he hosted his first session called Mora-Mobu Poetry Session at Maqalika dam, which is considered to be the hub of all things fun and creative. He entices curiosity, encourages exploitation, and gives one the feel of togetherness making it the perfect space to enjoy the art of the word.

With COVID-19 in place, the poet cannot rant his humorous verses before the crowd, this is where Mora-Mobu released Mountains With Voices inspired by his pieces and the environment during his performances. He converted his abilities and words into a meaningful, effective musical and poetry, hence the motive to do a cover version of one of the songs he loves by the iconic Letta Mbulu.

The song is about celebrating those that loved us enough to share their creative gifts with us, pioneers like Ntate Forere oa Tau ea Mat'sekha, a pioneering Famo artist, and the likes of Ntate Letsema Mat'sela commercialized Lihoba music. The pioneers mentioned above made it possible for Mora-Mobu to acknowledge the impact they have on him. He explains that the song speaks of the ones carrying the art torch from Pitsoh Ramakhula, Morena Leraba to the ones stepping up to the counter like he is.
Mountains With Voices being on Musicbox charts have shown that for many years of writing, recitation, and through the power invested has added more to building his brand image. It has been nothing but love from the masses, through the compressed thoughts and emotions. The song just made it in the weekly Top10 of the 40 most loved songs at the first online radio station, Sky Alpha HD. Music transcends languages, it was a shift and something that was least expected from him.

Art is a beautiful thing, it enables those who dare to dream an opportunity to taste the beauty of life whether through music, play, or poetry. He wraps up by saying "stay woke, 'Mesa Mahlooane ha a panye. I appreciate the support and love, let's keep Leloko la Mobu growing and grow art in our land, I think we came close to making a classic here".

Through this section, one can give the sense that he reveals in Mountains with voices' lyrical poem. He portrays a black child's primal essence, it is important to thoughtfully represent your art. His duty as a poet is to the poem not to an ideal.
Stream or download here: https://www.musicbox.co.ls/artist/pmae/single/mora-mobu-mountains-with-voices-1616350852